Let's face it, if you aren't marketing your business on Instagram, you are probably missing out on some cash. This is especially true of B2C marketers who are trying to connect directly with customers. With infomation being thrown around like the fact that Instagram "has about 400 million active users daily" and that "56% of Instagram users make $50,000/year or more", it is easy to see why this is an attractive audience to be showing off how useful/sexy your brand, product and/or services are.
There are many ways to leverage the power of Instagram, including of course building a strong, consistent and engaging account for your brand. There are also options for paid advertising on Instagram including targeted ads that appear on people's feeds dependent on the select target audience you choose. Both of these are very powerful methods if applied correctly, however, spend some time searching successful brands on Instagram and it is unlikely you will find anything that has more power than Influencer Marketing.
Influencer marketing can be a complex tool, with each social media platform having their own nuances and aspects that can be used to your advantage. In this article, we avoid the obvious and look at some of the other best ways to work with influencers on Instagram.
Feed your feed
 One of the biggest issues in building a large and engaged audience for your brand on Instagram is the sheer amount of content that is required to keep your feed up to date.
In the words of Gary Vaynerchuk "more is more". And although there is no set figure, about 2-3 times a day is the golden number for really driving engagement and growth on your account. Having that type of content laying around is not easy!
But what if I told you could access professional image and video content from experts that consistently engage with and understand your audience at a fraction of the cost of a professional studio?  Queue Collabor8!
That is one of the biggest benefits of working with influencers on Instagram. By working with individuals to produce content that is relevant to your brand you can then ensure you have a consistent feed of high quality content for your own brands feed. It is worth mentioning here that you must make sure you have permission and/or the rights to use this content for your own marketing purposes.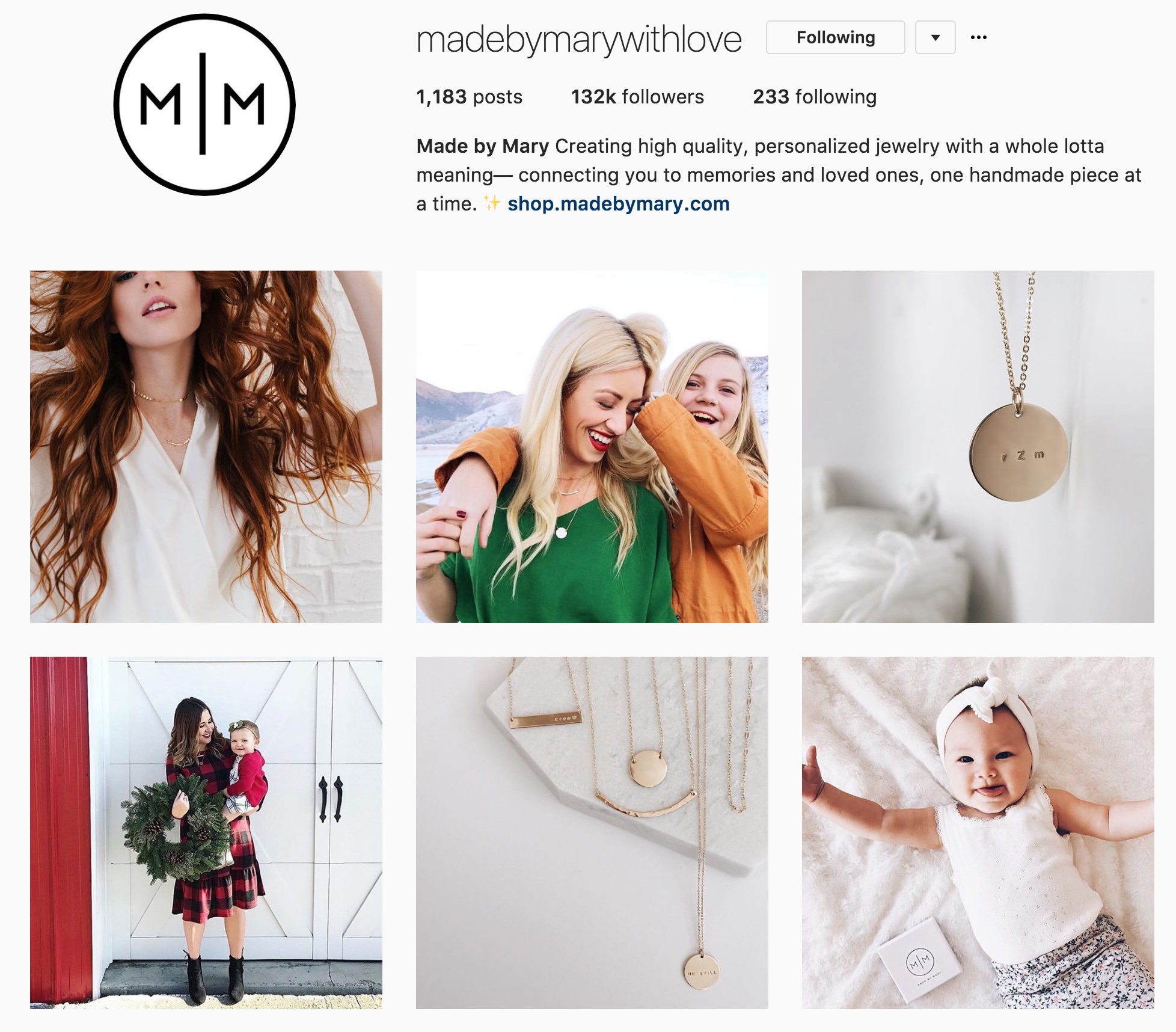 Made by Mary Jewelry does a great job at getting consistent content from influencers, bloggers, etc.
Tell a story
"Buy our product now" just doesn't cut it anymore when it comes to marketing messages. Brands must deliver a strong brand purpose through storytelling if they want to attract today's younger market or they risk becoming irrelevant. Check out this bit on storytelling: "The NBA and National Geographic on the power of social for storytelling". 
A strong brand purpose will usually have many contributors and small stories applied over time to bolster and strengthen its position. Working with influencers on Instagram will let you leverage the powerful position of that influencer with your target market while building and growing your brand story.
This might seem obvious, but worth highlighting, that the Instagram stories feature is an excellent way to do this. With more than 250 million active daily users, it is a powerful and underutilised aspect of Instagram. This can be a series of planned posts in which your brand will play a subtle but crucial part in the overall story.
The most effective way I have ever seen this being applied has been through influencer attended events and new product launches. This gives you the ability to physically build the influencer into part of your brand story and allows them to communicate it in an authentic and genuine way with their audience.
Think link
 It may be the bane of digital marketers lives that Instagram has for some reason made it so difficult to include links on their platform, but it does have its benefits. With so few links to choose from, this has made those that are available prime estate on the platform.
Of course, your brand will have the ability to include a link in your bio as well as the potential to include shopping tags to posts and links in your own stories, depending on the size and verification of your account. Side note: If you haven't seen our hack for multiple links in your bio yet, check it out HERE. Working with influencers also opens up a ton of additional options of well visited links on Instagram.
Working with an influencer who will include a link in their bio can be considered the holy grail of Instagram marketing. But be warned, this is not something that is easy to land, and not always guaranteed to perform. This can either cost a huge amount up front, or you will need to offer the influencer a large amount of value for this prime position, such as a large commission on sales or something else exclusive and sexy. Yet another reason we developed LYNX in Bio.
The smart marketer will turn their focus back to stories. Most substantial influencers will have access to the link function on Instagram, accessing this "swipe-up to visit" is usually valued less by influencers and therefore easier to access for brands. Considering this in tandem with our point above means influencers can tell a fantastic story before finally pointing viewers over to somewhere you can then capitalise on that attention.
One point worth noting. It is crucial to give influencers something good to link to, with a high value for their audience. Firstly, this will encourage the influencer to actually use the link and will also mean you don't have a huge bounce rate after users have swiped up.
Vote to promote
 Have you ever used the vote-button on Instagram?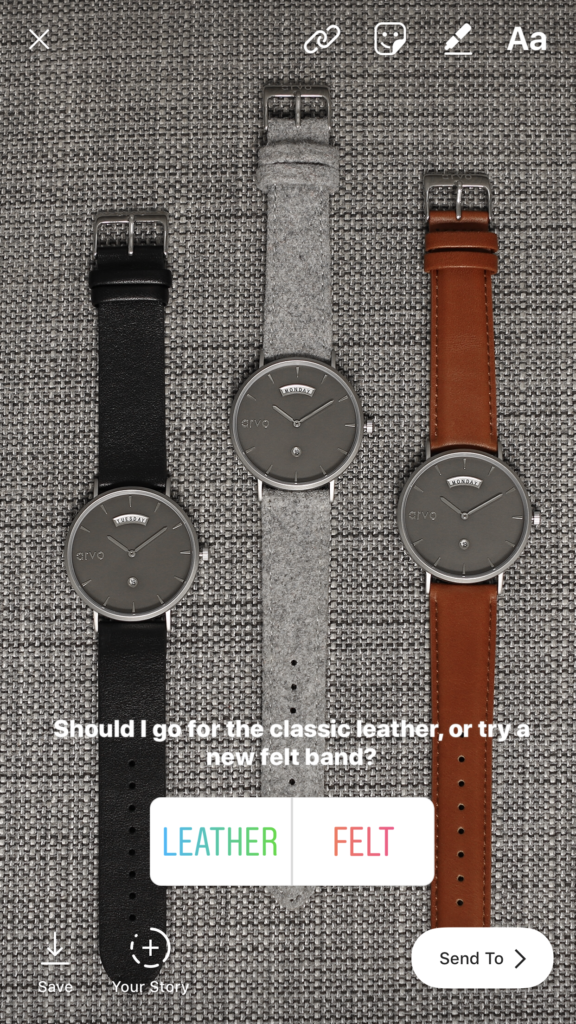 It can seem a little mundane when not used properly. But in fact, this function has huge engagement and even sales potential. Imagine for example the ability to shape new products and services for your brand based around exactly what your audience wants!
We have all heard of collaborations between big brands and celebrities. These can create huge traction for brands, just take a look at the latest collaboration between Kourtney Kardashian and the Pretty Little Things brand. But working with smaller influencers can also create a great amount of publicity for a brand and the use of the vote button can boost that even further.
Working with influencers to create a specific product that is unique to them is both a great way to earn their favour as well as tap into their extensive audience. This tactic has been used with some great success with certain brands. However, working with an influencer to create a unique product based on their preferences and then tapping into their audience to create a final edition provides huge power with a product meeting customer preferences as well as a pre-engaged audience.
Take for example a watch brand that may partner with one of their top influencer partners to create a signature watch. This could include a process of creating a number of sample watches to the influencers preferences, which will then get voted on by the influencer's audience via their story voting buttons. You end up with a watch that is both true to the influencers style as well as chosen by their audience.
It is clear that Instagram is a powerful platform when it comes to influencer marketing. Alongside the obvious options for working with influencers like posts in their feed promoting your products and brands, you can also work with influencers in more creative ways through their stories and by creating expert content that can be leveraged in your own feeds.
See how Collabor8 can connect you with thousands of influencers today!